| | |
| --- | --- |
| Read a gospel reflection for 15 July 2012, a book review by Allan Huggins, an interview with Alexander Shaia, and catch up on the coming events. | |
Community Newsletter – 15 July 2012
Welcome
Welcome to the Anam Cara Community newsletter for the week beginning 15 July 2012. In this issue you'll find the weekly gospel reflection, a book review by Allan Huggins, and news of events coming soon.
This newsletter is one of the ways by which we hope to promote community. The Anam Cara Community is intended to be much more than simply a group of likeminded people. We hope it will continue to grow into a community that is a sign of God's presence in and love for the world.
If you have a piece of writing you'd like to share with the Community, feel free to send it on to Colin (colin.thornby@anamcara-gippsland.org). Work of all sorts is encouraged.
---
For your prayers
Part of the joy of the Anam Cara Community is the gift of being called to pray for others. If you would like the Community to pray for you, or for someone else, please email or phone Colin (colin.thornby@anamcara-gippsland.org, 0403 776 402) or Jane (0411 316 346 or jane.macqueen@anamcara-gippsland.org) who will add them to the prayer list, and ensure they're included in the next issue of the Newsletter. At present, your prayers are asked for:
Anne Turner, who is still experiencing pain and difficulties following her surgery. Please also pray that as God leads her into new places, that she might be willing to follow.
Colin Thornby, who has relapsed mantle cell lymphoma. Colin is facing a time of chemotherapy and radiotherapy and an uncertain prognosis.
Brian Turner, as he prepares to enter into a new phase of ministry as priest-in-charge of the Parish of Avon.
---
Coming Soon
28 July 2012 – Ministry Development Day for Spiritual Directors
Ms Cheryl Russell, Director of Professional Standards for the Anglican Diocese of Gippsland, will lead a day of ministry development for those ministering as spiritual directors, those who are in formation, and those who are interested in ministry as a spiritual director. Information about the newly introduced authorisation process for spiritual directors will also be available at this day. Those intending to attend are strongly encouraged to RSVP.
Cost: $5-$15
St Mary's Church (Cnr Princes Drive and Latrobe Road, Morwell)
9.30am to 4pm
For further information, and to RSVP contact Colin Thornby (colin.thornby@anamcara-gippsland.org, 0403 776 402)
3 August to 5 August 2012 – Men's Retreat at the Abbey of St Barnabas at A'Beckett Park
The Rev'd John Stewart (Director of the Living Well Centre for Christian Spirituality) will lead a retreat for men.
Cost $195, fully catered, in refurbished units

Further information, and to book, contact Brian Turner (0408 216 965, brianandannet@bigpond.com)
11 August 2012 – Quiet Day at Mirboo North
Bishop John McIntyre will lead a quiet day at Mirboo North, on the theme of struggling with God.
9.30am to 4pm
St Mary's Church (114 Grandridge Rd/ Strzelecki Hwy, Mirboo North)
BYO lunch – morning and afternoon tea, and soup, will be provided
For further information, and to RSVP contact Sue Hopkins (secretary@anamcara-gippsland.org, 03 5182 5542)
Cost is free-$15 depending on means
13 October 2012 – Windows into Judaism
A day exploring themes in Judaism, and the distinctive traditions coming out of Judaism.
10am to 3pm
Allan and Jan Huggins' home (1067 Yarragon South Road, Trafalgar South – access from the Princes Freeway via Sunny Creek Road)
BYO lunch – morning and afternoon tea, and soup, will be provided
RSVP by contacting Carolyn (03 5191 8343), Jan (03 5634 7616) or Marion (03 5623 3216)
Cost is free-$15 depending on means
Further information, and a printable flyer at: http://www.anamcara-gippsland.org/?p=730
Don't forget about events at the Abbey of St Barnabas at A'Beckett Park.
---
"Leaving Alexandria – A Memoir of Faith and Doubt" by Richard Holloway
 By Allan Huggins
A book by Booki.sh
Who would have been prepared to reveal his sexual urges in his memoirs?   Who would have revealed his doubts and struggles with the C of E and its rules and regulations?  Certainly not a Bishop!  Yet, Richard Holloway, formerly Bishop of Edinburgh has been open and frank in this book, which makes it refreshing and encouraging.
From a working class family in Alexandria, close to Glasgow, Holloway entered the Kelham seminary at 14 and joined the other students on the path to ordination.  But doubts and personal struggles delayed his ordination until he had left the seminary, and returned to Glasgow, where he served first in the Gorbals, a slum settlement in that city.
During his time as a parish priest to those who were poor and struggling, he had times when the rectory was  'open house' to all and sundry.  He encouraged the provision of a better life for his people, and showed a "Jesus-like" passion for the poor.
There were other challenges as well for Richard Holloway as he served in the Scottish [Church of England];  he clashed with other leaders over issues of understanding the Bible, of the ordination of women, of the charismatic movement, and of the Anglo Catholic movement within the C of E.  He also admits to marrying a gay couple long before this became a live issue in the Anglican Church here in Australia.
"I could not refuse the sincere request of Peter and Richard to hear them promise to live together till death."  This was "when I performed my first gay marriage …… at Old St Paul's in Edinburgh".
Even after his appointment as Bishop of Edinburgh and "Primus" of Scotland, he clashed with those who [to him] seemed to be supporting rules which contradicted his understanding of the purpose of the Church.
Following his resignation from his role, he has separated himself from this Church, which he has served for 50 years.  His healthy criticism of the C of E clashes with the approach of most of his fellow Bishops, and presents all Anglicans with a healthy challenge to question the way their own Church operates.
p.s.  For myself, this is an encouraging and enlightening book.  I have kept the rules of the Anglican church faithfully over the years although often questioning these rules and their effectiveness.  Retirement has given me the opportunity to explore these issues in a more relaxed and thoughtful way.
The question in my mind is – had I read a book like this 40 years ago, would my response to my own ministry have been significantly different?
Leaving Alexandria is available from:
---
Gospel reflection
By Colin Thornby
2 Samuel 6:1-5, 12b-19
Psalm 24
Ephesians 1:1-14
Mark 6:14-29
From Paul, an apostle of Christ Jesus by God's will. To the holy and faithful people in Christ Jesus in Ephesus.
Grace and peace to you from God our Father and our Lord Jesus Christ.
Bless the God and Father of our Lord Jesus Christ! He has blessed us in Christ with every spiritual blessing that comes from heaven. God chose us in Christ to be holy and blameless in God's presence before the creation of the world. God destined us to be his adopted children through Jesus Christ because of his love. This was according to his goodwill and plan and to honour his glorious grace that he has given to us freely through the Son whom he loves. We have been ransomed through his Son's blood, and we have forgiveness for our failures based on his overflowing grace, which he poured over us with wisdom and understanding. God revealed his hidden design to us, which is according to his goodwill and the plan that he intended to accomplish through his Son. This is what God planned for the climax of all times: to bring all things together in Christ, the things in heaven along with the things on earth. We have also received an inheritance in Christ. We were destined by the plan of God, who accomplishes everything according to his design. We are called to be an honour to God's glory because we were the first to hope in Christ. You too heard the word of truth in Christ, which is the good news of your salvation. You were sealed with the promised Holy Spirit because you believed in Christ. The Holy Spirit is the down payment on our inheritance, which is applied toward our redemption as God's own people, resulting in the honour of God's glory. (Common English Bible, Ephesians 1:1–14)
It seems to me, reading this passage from Paul's letter to the Ephesians, that the church (and church people) have often been too concerned with presenting a message about individual salvation, and not with God's plan for the entirety of creation.
Partly the church's concern about individual salvation reflects our cultural bias towards seeing ourselves as individuals first, and then members of community. Other cultures, such as the Maasai, have a clear picture that is the other way around. When Vincent Donovan shared the story of Jesus with the Maasai people, he found that their conception of community required a de-emphasis of the individual, and a re-emphasis of the community. The Maasai would receive the Gospel, or not receive it, as a community. Donovan later wrote an influential book about the need to examine what we present as the Gospel, and be sure that we present the Gospel, and not our cultural baggage with the Gospel. Our cultural norms in the church are often a hindrance for people encountering Jesus, helpful as they may be for us.
In order to make sense of what God does in each of our lives, we need to have an understanding of the whole story. Paul's intention in this reading is to sketch out a road-map of the story, into which our own stories fit, and make sense.
The form of the reading is a prayer, in which Paul gives us a bird's eye view of the whole of God's plan of salvation, and the centrality of the work of Jesus to that plan.
Paul is at pains to point out that Jesus acts for us, and we are 'in Jesus'. This draws on the Jewish idea that the king represents his people, so that whatever happens to the king happens to the people, and whatever is true of the king is true of the people. A familiar example of this is the fight between David and Goliath. David represents Israel – he is already the king, having been anointed. His victory demonstrates to the Jewish people that he is in fact the one to lead them into God's future for them.
Jesus' work in breaking the old order of punishment for sin, and demonstrating a new and more peaceful and radical way of being, is a sign to us of the new order of creation which Paul goes on to describe. We are immediately part of this new order, because it is our inheritance – something we're freely given and which becomes ours because of who we are (children of God).
Because we are 'in Jesus', we are entirely bound up with the new order of creation, and it is in relation to that new creation that our lives make sense. Jesus is already the new creation, and through life in him, and the Spirit's work in us, we are transformed into the likeness of Jesus.
Salvation, then, can be understood in a way familiar to the Eastern church (and an ancient tradition in the Western church). The way of deification, or theosis, is a way of progressive transformation into the image of Christ. This way, which takes our whole life, is not at odds with Christ's decisive and saving action, because it is that action which makes this way possible.
The journey of deification is a journey in which we are gradually transformed and play our part in the new creation. As we become more Christ-like, we are more capable of living in the truth of the now-ness of the Kingdom of God, and our life demonstrates the presence of God in the world.
As always, in Paul, Jesus is at the centre of all of this. Our story is vital and important because we are loved, desired, and liked by Jesus, and because we are each indispensable. Our journey is not for us, but for the whole of creation, just as Jesus' ministry is for all of us, and for all creation. Our life in and with Jesus, in whatever we're called to live it out, is of vital importance.
We're each called to a love affair with God. As in any really loving relationship, we need to dwell in truth, and be free and ready to communicate, and recognise the other for what they are. When we're speaking about our love affair with God, that means that our worship (whatever form it takes) must be authentic and allow us to communicate honestly and meaningfully.
Bringing all things together in Christ is a truth that will take our lives to play out, and, wonderfully, it will be different for each of us. Despite what we often heard and were taught, there is no 'one size fits all' pattern for discipleship. We all encounter Jesus as an individual, and Jesus would have it no other way.
To ponder:
What does it mean to you to be 'in Christ'?
Can you see in yourself marks of the journey towards transformation into the image of Jesus?
How is your love affair with God? Is it a bit stale, cold, distant or strained? Lively and thrilling? Dying? What are you being offered as 'tools' for the journey?
Some may find the theology in this piece alien, nonsensical or threatening. It is quite consistent with the understanding of salvation taught by the Eastern church, and also by the Western church up until recently. If you react against the theology, ask yourself why, and whether or not you're being asked by God to be more flexible?
---
Traditional and Emerging Church
By Rowan Williams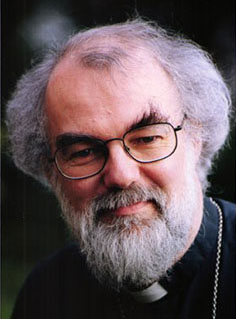 Church is what happens when the call of Jesus is definitively heard. God calls. God makes a difference. God draws together a community of people. We hold to Scripture and sacrements as the essential common language God has given. But what then?
Then, I suspect, it's a lot more chaotic than we have usually assumed. In Wales, we used to talk about the 'mixed economy' Church – that is, one which is learning how to cope with diverse forms and rhythms of worshipping life. The parish system works very well in some contexts. It's just that we are increasingly aware of the contexts where it simply isn't capable of making an impact, where something has to grow out of it or alongside it, not as a rival (why do we cast so much of our Christian life in terms of competition?) but as an attempt to answer questions that the parish system was never meant to answer.
Mission, it's been said, is finding out what God is doing and joining in. And at present there is actually an extraordinary amount going on in terms of the creation of new styles of church life. We can call it church planting, 'new ways of being church' or various other things; but the point is that more and more patterns of worship and shared life are appearing on the edge of our mainstream life that cry out for our support, understanding and nurture if they are not to get isolated and unaccountable.
Can we live with this and make it work? This is where the unexpected growth happens, where the unlikely contacts are often made; where the Church is renewed (as it so often is) from the edges, not the centre. We need a positive willingness to see and understand all this – and to find the patterns and rhythms and means of communication that will let everyone share the benefits.
So there are at least two Churches of England. There is the growing edge, the abundance of new things happening, with the new challenges about worship and ministry they bring. Then there is the so-called routine, the ordinary life of the parish, where people are unobtrusively introduced to Jesus Christ daily. And these two are really one.
Here we are looking at a Church with deep roots, both human and theological, getting on with the prosaic business (always so hard) without posturing, free enough from anxiety to be grateful for new things happening, even if they are not easily digestible, doing those basic and small things which are also earth-changing – reading the Bible, bringing people to baptism, celebrating the Lord's Supper.
What gives this Church its solidity, I suggest, is that it knows itself to exist because of God in Christ – not as a cultural fact, not as a society of militants with a human programme but as a community living in the space God has cleared; sometimes unclear about what exactly should be said about this, sometimes deeply bewildered about the people who seem to be sharing this space with us, always at a loss as to how we should plan for future security, but confident because it was not our power or initiative that cut through the brambles and made a place to live.
This doesn't solve problems (theology doesn't, much). I hope, though, that it gives us something to remember when the various parts of the church jostle so noisily that we wonder where our unity is. If we believe in God's Church, two things are more likely to happen. We shall find more courage to explore new styles of Church life and the patterns and protocols we need to keep communication going with and between them. And we shall be freer to communicate with each other, without distrust and suspicion.
Rowan Williams is the Archbishop of Canterbury. (Like you didn't already know that…)
---
Stories for the Journey
Associates may recall that Dr Alexander Shaia recently visited Australia, teaching at the Abbey of St Barnabas at A'Beckett Park. This was part of a longer journey to the Southern Hemisphere, while Alexander was based in New Zealand.
The Independent Catholic Magazine, Tui Motu InterIslands, has a great interview with Alexander, which provides a summary of his work. You can find out more about Alexander and his work from his website.
Alexander will be back in Australia in February 2013, and we hope to host him for an event once again.
---
Coming up at the Abbey of St Barnabas at A'Beckett Park
We encourage Associates and friends to access events at the Abbey of St Barnabas at A'Beckett Park. Events coming soon include:
Back to A'Beckett Park with Archdeacon Ted and Mrs Annabelle Gibson: 24-26 July 2012. For those who knew A'Beckett Park in the 1950s, 60s or 70s. Enjoy the peace and natural environment of the Abbey, share memories and past experiences, stay in one of the refurbished units, pray in St Barnabas Church, find out what's planned for the next stage of development of the Abbey. Day visitors are welcome on 25 July 2012 to celebrate the dedication of 1 First Parade as Ena Shumack House.
Men's retreat: 3-5 August 2012. Facilitated by John Stewart.
Fire and Creative Writing: 17-19 August 2012. Led by Philip Muston and Sue Fordham. For those interested in creative writing.
Wind and Music: 14-16 September 2012. Led by Fay Magee and Don Saines, for those who seek expression through music.
Earth and Art: 12-14 October 2012. Led by Pene Brook, a must for those who are interested in art and visual expression.
Water, dance and movement: 9-11 November 2012. Led by Susanna Pain – for those who like to move and dance, reflect and take time to relax.
For more information, download the program, or contact Sue Gibson, 03 5156 6580 or info@theabbey.org.au
---
Support on the journey
The Anam Cara Community's ministry is to be a support to those who are on the inner journey into God. Each person's journey is different, and we recognise that there are some for whom the Christian tradition is difficult or not supportive. We're committed to finding ways to hear the needs of each Associate, and support them as we can.
The Community can offer support in a number of ways:
Spiritual direction / soul care: Spiritual direction is a process by which one person helps another grow in intimacy with God and in right relationship with all creation. This ministry has a long and revered history in the Christian tradition and has been practised by lay people, religious and ordained ministers. The focus of this ministry is the relationship between God and the person seeking direction. For more information and a referral to a director, contact Colin (0403 776 402 or colin.thornby@anamcara-gippsland.org) or Jane (0411 316 346 or jane.macqueen@anamcara-gippsland.org)
Quiet days: usually held monthly across Gippsland, and in Canberra. Details are in this newsletter, or on the website.
Library: maintained in Sale, but available for borrowing by post. Contact Sue (secretary@anamcara-gippsland.org, 03 5182 5542) or visit our webpage.
Publications: Waterholes is the news-magazine of the community. Contributions are welcome.
Fellowship: Available at our events, by email, on the phone, and the website.
Website: Full of news, resources, reviews and other interesting information and supports.
Love and prayers
Colin Thornby and Jane Macqueen
Soul Carers
Leave a Reply